The professional solution to
onsite registration


Onsite Service
Name badge printing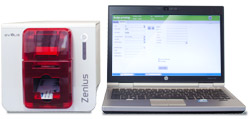 Thermal plastic badge printers and laptop with badge printing software can be hired for onsite use, with or without onsite support from us. Conference Badges has developed a system for quick retrieval of delegate data and instant printing of badges. This is a great solution purpose-built for any unexpected attendees that need to be registered at the event and puts an end to long queues at the registration desk.
Barcode scanning with ScanEngine
ScanEngine is a barcode scanning system. It reads barcodes, which it can then either store or use to look up data.
Wireless barcode scanners can be hired for tracking attendees into the event and for various breakout sessions. After the event, simply return the scanners to us and we will email you all the data collected on them.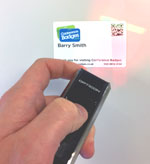 Each barcode scanner uses flash memory, which is stable and, unlike some systems, does not require constant power to hold scans in memory, so even if the battery runs out your data is still safe. Each scanner can operate for days on a full charge and has enough onboard memory to store 100000 scans between downloads. Scanners can also be hired to exhibitors, providing a potential extra revenue stream to organisers.Once a badge is scanned, the device stores it for later download. A report is produced and emailed to you to forward to your exhibitor.
Managed services
By combining our scanners with a tablet and our purpose-built application, we can also provide real time data for monitoring attendance numbers, breakout session capacity management, send SMS or email alerts as VIPs arrive, and more.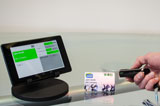 The tablet receives data from the barcode scanner, stores it, and compares it with data on the server or in its own memory. It can be used to display data about delegates as they're scanned.
The tablet transmits and receives data from the server so you have a back up of your data and can get real-time attendance data. If no wireless signal is available when the barcode is scanned, the tablet stores data locally and will transmit its data as soon as a wireless signal becomes available.
Each tablet keeps its own copy of the database and works independently of the server, so if the server is temporarily unavailable delegates can still be scanned. As soon as the server connection is restored the tablet would transmit the data it collected while offline.
ScanEngine is:
Simple to use
Flexible, as it can be used for a variety of applications
Portable. It's handheld, and can run on batteries.
Robust. It can back-up data as it's captured.
Scalable. You can use it for small events with just one scanner, or larger events with many scanners.
Non-invasive. There is no need for your delegate to remove their badge for it to be scanned nor does the scanner need to swipe the badge from any closer than 30cm.
You may have a use in mind for ScanEngine that we haven't considered yet. To learn more please call or email us.