Choose Your Badge Type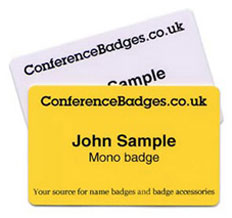 Mono Badges
Simple and effective!
Mono badges are the most economical type of badge with the fastest lead time. We can turnaround small quantities the same day! All mono badges are printed with a logo and personalisation in either black or white to a stock background coloured card. Popular background colours include white, silver, gold and black.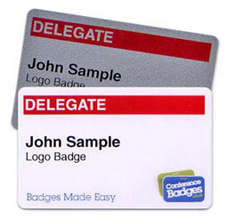 Logo Badges
Professional colour badges on a budget
Add a splash of colour with the Logo Badge. As the name suggests, this process is ideal for printing a logo or other graphics alongside the attendee name. Logo badges offer a near edge full colour print at a competitive price. We can also turn around small quantities the same day.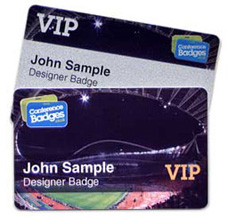 Designer Badges
High precison edge to edge printing!
Designer Badges are our most popular badge type. The print process means you get a high definition print and more design freedom. Designer badges allow full-bleed, edge-to-edge printing with impressive results.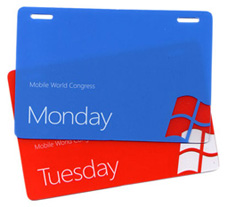 Litho Badges
Great value on large quantities!
Produce high precision badges in large quantities. Complex, intricate designs may be achieved, larger or bespoke card sizes available, printing on clear or frosted plastic cards also available. Very competitively priced for quantities over 1500.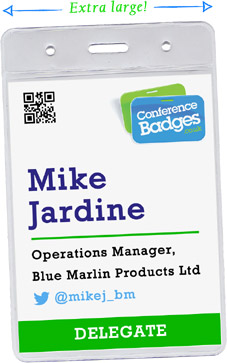 A6 'Jumbo' badges
For when you've got a lot to say
NEW The A6 'Jumbo' badge is an exhibtion-style badge printed on good quality, heavy paper stock, and suitable for use with our A6 badge holders. Ideal when you have a lot of information to present on the badge, such as an agenda on the reverse. Or perhaps you want to include other items along with your badge such as a floor plan, which you can put in the wallet behind the badge.

Compare Badge Types
| Feature | Mono | Logo | Designer | Litho |
| --- | --- | --- | --- | --- |
| Printable colours | Black or White | Full colour | Full colour | Full colour (inc. pantone, metallic and fluorescent colours.) |
| Print coverage | Near Edge (2mm border) | Near Edge (2mm border) | Full bleed (edge to edge) | Full bleed (edge to edge) |
| Production time (Dependant on quantity) | 1-3 days | 1-5 days | 3-10 days | 10-17 days |
| Low cost on small quantities | from 79p per badge | from 88p per badge | from £1.14 per badge | Cost effective on quantities over 1000 |
| Print small text and fine graphics | | | | |
| Suitable for photo ID | | | | |
| Print on to coloured plastic cards | | | | |
| Print individual personalisation | | | | |
| Optional double side printing | | | | |
| Pantone colour matching | | | | |
| | | | | |