Any size,
colours,
attachment,
with breakaway.



Printed Lanyards
Branded lanyards can complement your branded badges to give your event a really professional look throughout. For a lot of event managers, they can also monetise their lanyards by selling the opportunity to sponsor the lanyards to a willing event partner. After all, every attendee will both wear and see the lanyard. This income will often pay for the lanyards and reduce costs for the organiser.
Conference Badges have a huge offering of lanyard types, both branded and unbranded. Unlike a lot of suppliers, most of our printed lanyards are made in Britain, so by purchasing from us you get faster production (as fast as five working days) while helping to keep the UK economy flowing!
All of our lanyards are made to a standard length of 90cm with a plastic breakway and metal attachment.

Choose from 3 different widths (diagram is not to scale)

Choose from a range of metal attachments (Plastic attachments also available please contact us for more information)


How many colours do you need? (Pantone colour match available)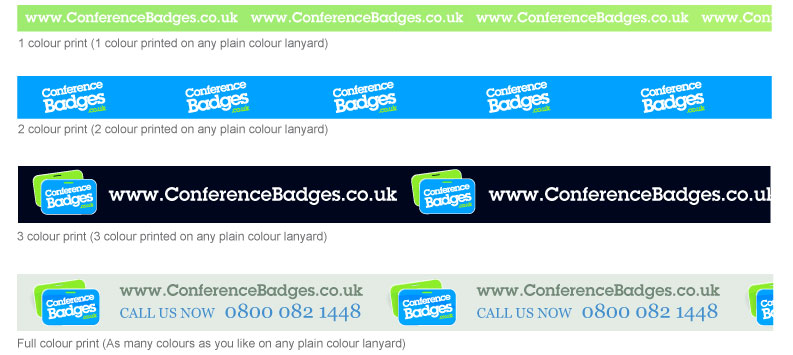 Please contact us for a quote, with your quantity, attachment and ribbon preferences. If you have a logo you'd like to print, it's helpful if you can send this for quoting purposes.
A PDF proof is created for approval before lanyards go to print.
A range of unprinted lanyards are available in our Accessories shop